The 2020 Women's World Chess Championship between challenger Aleksandra Goryachkina (Russia) and world champion Ju Wenjun (China) moved from Shanghai, China to Vladivostok, Russia for the second 6 games of the 12-game match.
---
Game 7
Ju Wenjun playing the white pieces looked to capitalize on her space advantage in a Rook and Pawn endgame where the material was even, but Aleksandra defended nicely.
After Aleksandra with the black pieces played Move 67. … Kc7, and the players agreed to a draw.
Now the match is tied 3½ – 3½, with 5 games remaing.
Game 8 is scheduled for January 17, 2020.
(See map and schedule below.)
---
Standings after Game 7
---
2020 Women's World Chess Championship
The 2020 Women's World Chess Championship between
challenger Aleksandra Goryachkina

and

world champion Ju Wenjun

began in Shanghai, China on January 4, 2020.
The Challenger
Russia's Aleksandra Goryachkina
Born September 28, 1998
21 years old
Rated 2578
---
The Reigning Champion
China's Ju Wenjun
Born January 31, 1991
28 years old
Rated 2584
---
What?
Russia's Aleksandra Goryachkina and China's Ju Wenjun compete in a 12-game match with "Classical Chess" time controls, followed by a Tiebreak system, if necessary.
Where?
The first 6 games take place in Shanghai, China. The second 6 games along with possible Tiebreaks and the Closing Ceremony take place in Vladivostok, Russia.
When?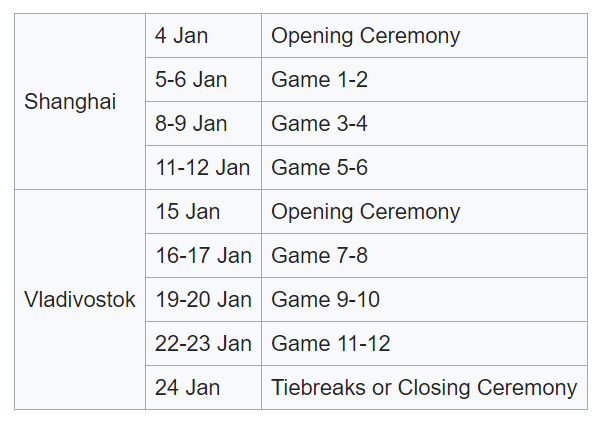 ---
The Challenger!
In May 2019, Aleksandra was only 20 years old at the time and the youngest and lowest-seeded of the world's Top 8 women chess players competing. She won the Candidates Tournament and earned the opportunity to challenge China's Ju Wenjun for the upcoming 2020 Women's World Chess Championship!
She is a Grandmaster and two-time Russian Women's Chess Champion. She also twice won the Girls Under-20 World Chess Championship.
She is on the rise and may well be the next Women's World Chess Champion!
---
The Path to a Chess Championship Can Begin Here!
The World's Best Selling Scholastic Chess Workbooks!
"Knights Battle"
Chess Rules For Students
is a workbook for students learning the game of chess and for beginning students returning to the game. No previous knowledge of chess is necessary. Parents unfamiliar with chess will find this booklet a valuable guide to their child's new interest.
Chess Rules For Students
is designed with students, coaches, and parents in mind. Reading level is appropriate for grade-school use. All major rules of chess are covered, and algebraic notation worksheets are included. Each page is in easy-to-use worksheet format.
A student-friendly Answer Key makes self-correction fun!
---
"Knight Checkmates King!"
Checkmate! Ideas For Students
is a workbook for beginning and intermediate students.
Checkmate!
covers the tactics used in checkmate attacks with clear explanations, diagrams and arrows to pinpoint the key features.
Unlike many other basic checkmate books,
Checkmate!
categorizes the checkmates by the tactics used to force the checkmate–like Pins, Sacrifices, Removing the Guard, Attraction, Clearance and Attacking Flight Squares–rather than only the checkmate pattern itself.
The worksheets and Answer Key are clear and simple for the student to use, and easy for the parent, teacher and coach to correct! Fun!
---
"Profiles Face-Off in King's Shadow"
Chess Tactics For Students
contains 434 carefully selected problems in worksheet format.
Chess Tactics
has been extensively field tested with elementary, middle-school, and high-school students over a four-year period. This book is ideal for independent seat work as well as for homework and classroom instruction.
The worksheet format and Answer Key enable self-correction with minimal dependence or direct help from a chess teacher, coach, or parent.
---